On this day one hundred years ago, the HMY Helga, a British Royal Navy ship, was on the river Liffey, shelling the city of Dublin. Today, what is left of that ship, lies at the bottom of the sea off the Wexford coast,just south of the Saltee Islands in a stretch of water that has claimed many ships over the years.
Initially called the Helga II, she was built in 1908 in the Liffey dockyard for the purposes of being research and protection cruiser for the Department of Agriculture and Technical Instruction (Ireland). In March 1915, she was taken over by the Admiralty and became known as HMY Helga and served as an "Armed Auxiliary Patrol Yacht", working as an anti-submarine patrol vessel and providing escort in the Irish Sea.
In 1916 she was diverted to the Liffey to shell the city of Dublin for three days during the Rising. Liberty Hall bore the brunt of her attack. According to the Defence Forces Programme of Events for 2016, that while the ship "caused limited destruction it played a significant role in the psychological battle of the Rising."
As World War I also raged during this time, the ship was kept busy patrolling the Irish Sea and is credited with the sinking of a submarine in 1918. It was also involved in rescuing over 90 passengers from the RMS Leinster when it was torpedoed just off the Kish bank. Over 500 passengers perished that night – the greatest single loss of life in the Irish Sea.
The story does not end there. The ship went on to become the first naval vessel owned by the Irish Free State. Purchased in 1923, she was renamed the Muirchú. It operated for a time as a fishery protection vessel until it was taken over by the newly formed Marine and Coastwatching Service in 1939. WWII had just broken out and for the few years, the ship was part of the wartime coastal patrol.
Between 1942 and 1945 a new marine service was established and the coastwatching service disbanded. The marine service became part of the defence forces and in 1946 the Irish Naval Service as we know it today came into being.
Hammond Lane Foundry purchased the Muirchú from the Marine Service in 1947. However, she sank on passage to Dublin just off the Saltee Islands but not before all her crew were rescued.
Today, in calm weather conditions, the Irish Defence Forces commemorated the 1916 Rising at sea in a unique way by diving down to what remains of this historic ship. Instead of a hail of bullets, there were hail showers with sunshine bursting out in between. A very different day to 27th April 1916.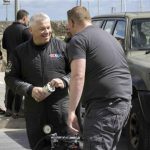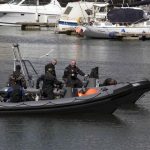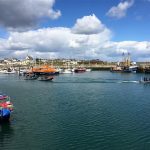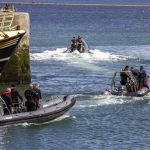 Sources:
https://en.wikipedia.org/wiki/Irish_patrol_vessel_Muirch%C3%BA
http://www.military.ie/fileadmin/user_upload/images/Info_Centre/2016_Project/DefenceForcesProgramme_Inner_Pages_Artwork_final.pdf
http://www.irishships.com/helga_11_muirchu.html
http://www.infomar.ie/data/Shipwrecks/Box46/pdfs/Muirchu_Final.pdf